1. Home Decor Mum
This super easy to make wall mural is a perfect gift for a interior-mad mum. Finding a fabric like Zindia by Voyage, Meadow Flowers by Blendworth or Penelope's Muse by Clarke & Clarke and adding a little decoration makes a beautiful decor piece fit for any room of the house. 
2.  Beauty Mum
Has anyone ever seen a mum without a chapstick in every pocket and bag they own? To keep them well packed with their favourite lipbalm, they'll be eternally grateful for this simple Chapstick holder keyring.
This is the perfect little job for anyone with some scrap fabric leftover. Or, try a few of our cheap, cotton prints from brands such as Clarke & Clarke and Prestigious Textiles.
3. Techy Mum
If mum's a little techy, this organised tablet cover tutorial is just what you need to study! Find a few funky patterns and get creative!
4. Pamper Mum
Create you and your mum some snazzy headbands, grab some face masks and have pamper day! Cause Pamper Mums love nothing more than relaxing and having a good natter.
5. Gardening Mum
These adorable Seed Bomb favours are the perfect Mother's Day gift for any Gardening Mum – especially as Spring is creeping nearer. Using a variety of pattern leftover scraps, make a few of these cute seed bombs to keep her going in the garden.
6. Teary Mum
If mum's ill or a little on the emotional side this Mother's Day, these pretty tissue cases are just the thing to keep her spirits high.
7. Sentimental Mum
These fabric covered picture frames are the ideal gift for the Sentimental Mum. No matter what the occasion – a recent wedding, new arrival, throwback selfie – your old memories will look perfect in these jazzy frames.
8. Artsy Mum
How amazing are these pencils? With leftover fabrics you can transform any ordinary set of pencils or pencil crayons into a masterpiece for gifting. Mum will love her new personalised pencils, and you'll have plenty of money spare to buy a few sketchbooks and notepads to go with it.
9. Clean and Tidy Mum
If mum's a little 'clean freak' type, these simple to make storage boxes are the way to go. You could create a selection in her favourite colourschemes to store a variety of items – from towels to jewelry – or fill them like a hamper.
10. The Floral Mum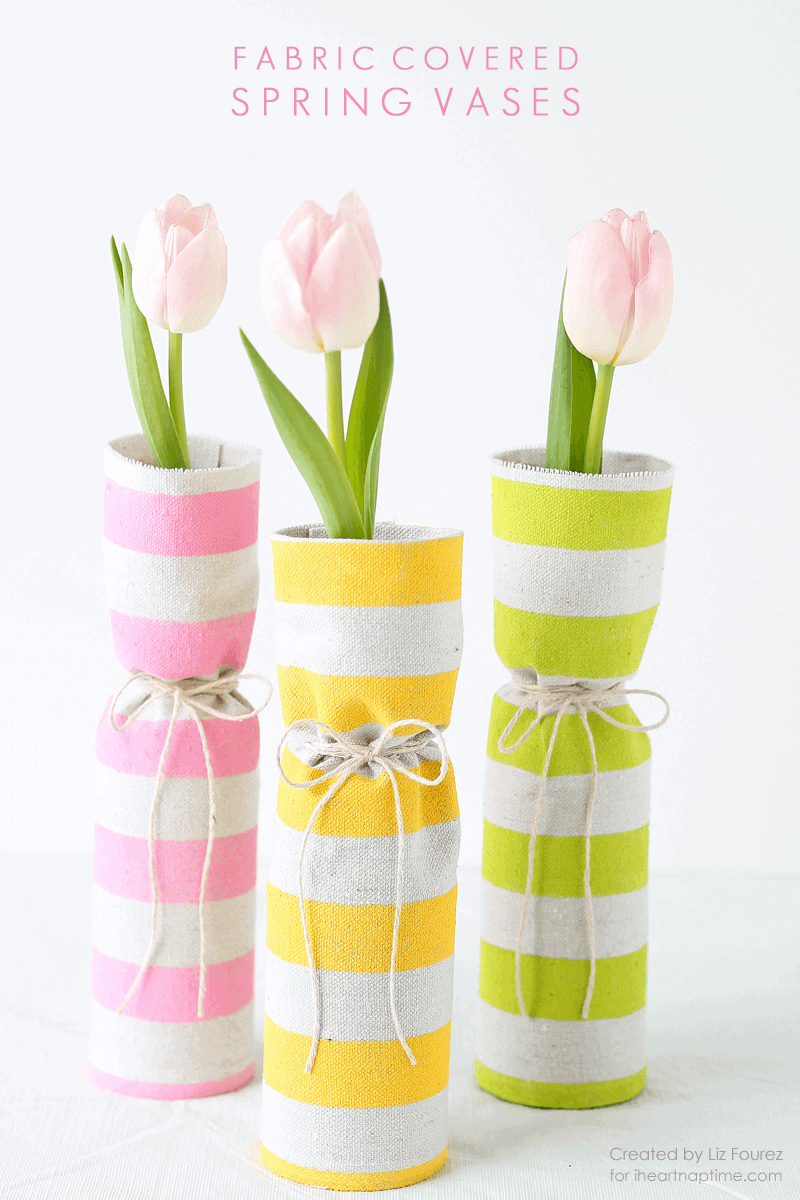 Instead of just buying a bouquet this year, how about creating some bright and reusable flower vases? These are great for all year round and are a little twist on the classic Mother's Day gift.
So get those scrap fabrics and get making for Mother's Day this year, and let us know what you try!